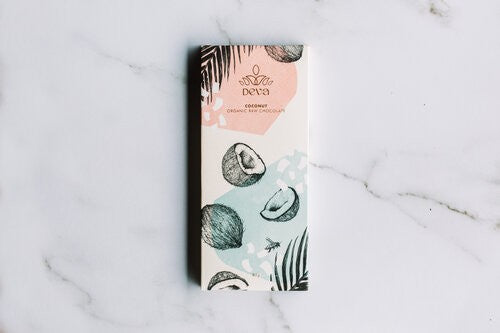 Deva Coconut is packed full of organic shredded coconut goodness. Chocolate and coconut go together like birds and bees. This one is a favourite.

100% raw and organic ingredients:

Cacao paste, Cacao butter, honey, coconut, vanilla beans, sea salt.

Deva Cacao is Australian made, organic raw chocolate.

It is one of the only tempered raw chocolates in Australia and the first raw chocolate naturally sweetened with the medicinal powers of 100% raw Australian honey!
Our packaging is certified home compostable so not only is Deva delicious, it's ethical, good for you and good for the planet.

All of our ingredients are of the utmost quality and naturally free of dairy, gluten, soy, GMO ingredients and artificial colours & preservatives.

All of our chocolate is also GAPS diet friendly, Celiac friendly, Keto friendly & Paleo.